This article was sponsored by Converso.
If you go through enough airports, you're bound to be stopped by security at some point. But when federal airport authorities stopped (some might say "attacked") Tanner Haas early this year, it was no ordinary occurrence. Something was off.
Instead of checking his bag or frisking his person, authorities demanded Haas give them access to his phone and computer so they could examine them out of sight "in the back."
Minutes later, Haas texted one of the investors in his new company who, after learning of the incident, replied simply, "Those f***ers. That was not an accident."
Less than two weeks prior, Haas had launched a new messaging app, Converso, which is currently available on Apple and Android devices. (You can download it here.)
Think WhatsApp or Signal except, unlike those apps, Converso actually protects your data from being sold to third parties or even accessed via federal subpoenas.
Whereas other encrypted messaging apps store all user conversations on external servers that can be accessed after the fact, all conversations on Converso (including calls) are only managed on users' devices and are never uploaded onto a server.
Even after being sent, messages on Converso can quickly be unsent and can't be screenshotted thanks to a patentable "screenshot protect" feature.
There's truly no other app that better protects user data and messages on the market. And some believe that is precisely why federal authorities attempted to seize Haas' personal devices.
Do you think the government is spying on American citizens?
Creating Converso
After scammers began targeting Haas' grandmother with incredibly detailed, personal information, he began seeking out a safer messaging app. But nothing on the market was truly private and secure.
ProPublica found that WhatsApp has 1,000 contract workers on staff digging through users' "private messages, images and videos." If deemed "possibly abusive," that data is shared with third parties.
What's more, Rolling Stone found that WhatsApp is a "wellspring of private user data" that can be easily accessed by federal authorities.
Apps like Signal and Telegram don't appear to be much safer.
Reports indicate that Signal is dealing with a serious spam problem by introducing a closed-source system, potentially endangering user data, and hackers have already used Telegram as a "command and control system" to steal data.
There was only one solution left for Haas: create a new, truly secure messenger. After months of hard work, Converso was born.
In addition to features like "self-destructing" messages and "screenshot protect," Converso boasts built-in spam protection, monthly security audits by external experts and a user-friendly interface. The app also completely deactivates users' cameras and microphones while in use to ensure that no one can listen in on conversations.
After all these unique features were developed, it was time for Haas to submit an application to enter the app market in January 2022.
That's when the coincidences began to stack up.
Strange Coincidence or Government Surveillance?
The strangeness started during the application process with Apple. After Haas applied, Apple employees began asking him questions that were none of their business.
"They would ask, 'How'd you do this feature? What's your monetization strategy?' That is something you reveal at a board meeting," Haas said.
After going back and forth several times, with the Apple employees continually asking for inappropriate company data and then denying Converso's application when that data was not provided, Haas finally had enough and spoke to an Apple supervisor, who admitted, "OK, I guess some of our questions were not entirely appropriate."
The application finally went through in late January 2023. Then, "exactly nine days after [Converso was published] on Apple," Haas was stopped at the airport while traveling with his fiancée to meet with the company's attorneys in Los Angeles.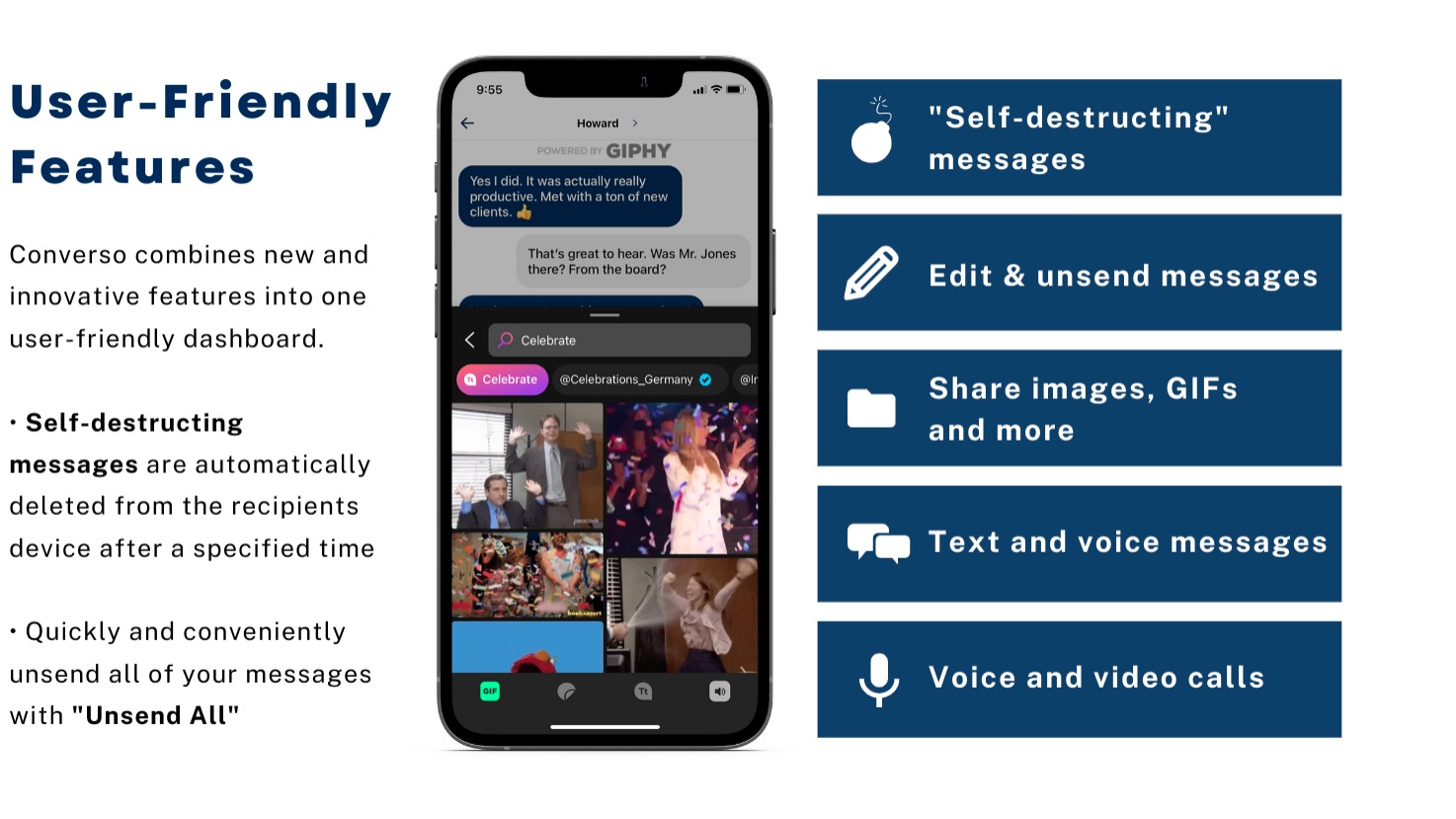 Typically, Haas has his fiancée hold onto his phone and wallet as he makes his way through security. This became a problem when security oddly demanded he produce both his computer and phone.
Haas wanted to know why his phone was needed, but authorities would not give him a straight answer. Eventually, three additional guards came over. The demands for his phone continued.
"They were making me look like a terrorist," Haas said.
Once they realized the phone was not on Haas but rather with his fiancée, who was already past security, down a set of escalators and "100 yards away," men were sent to stop her and take the phone.
"They go get her, grab my phone from her, bring it back and say, 'We need to take your phone in the back,' and I said, 'No, you don't,'" Haas recounted. "'No, you're not, unless I'm going with you.'"
"Then they said 'fine,' and they wiped down my phone and computer and gave it back to me."
"I don't think that's coincidence," Haas said.
Given how valuable personal data has become to social media companies, messaging apps like WhatsApp, federal authorities and other influential parties that use that information, Haas believes Converso will have a target on its back going forward.
There's no other app like it where your information and messages are 100 percent untraceable.
"We're … totally killing their business model, totally pointing out what they do," Haas said. "The better we do, the worse they do. … We can't coexist with them."
Sponsored content is a service paid for by an advertiser and produced by Liftable Media.